Summer 2012 Newsletter
LOGI founder honored by NE Patriots as Community MVP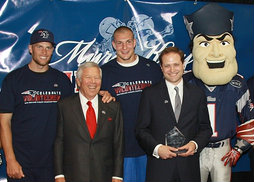 The New England Patriots Charitable Foundation awarded third prize in the 2012 Myra Kraft Community MVP Awards to Matt Martinelli of Lights Out, Green In. Martinelli was honored as one of 16 volunteers, among the more than 300 New England nominees, for his work in the community. The honor comes with a $2,500 grant for Lights Out, Green In.
According to the Patriots: "Martinelli is a great example of turning his passion about the importance of conserving energy into a nonprofit that is making a difference. As the founder of Lights Out, Green In, his vision is to educate and give people tangible tools to live more efficiently. He has collected hundreds of energy conservation pledges and works tirelessly to help curb climate change."
Martinelli was nominated for the award by fellow board member Mary Welsh McBurney.
"It is such an honor to be recognized by the Kraft famly as a recipient of the Myra Kraft Community MVP Awards. Myra Kraft's commitment to philanthropy and impact on the community was legendary during her life and it's heartwarming to see it grow stronger in her memory," said Martinelli. "This award will allow Lights Out, Green In, Inc. to reach many more people with its message of conservation and demonstrate how making simple changes to everyday habits can combat climate change. I feel blessed to be recognized with this award and hope I can continue to channel the spirit of the late Mrs. Kraft and focus on the health of future generations and our environment."
"Like" us on Facebook
Facebook has changed over the years – and so has LOGI's presence on the site. Lights Out, Green In is no longer a "group" that can send out messages to all of its friends. But – if you "like" LOGI and become a "friend" – news, photos and events for the nonprofit can show up in your timeline. 
"Like" LOGI and become a "friend" immediately.
Follow Lights Out, Green In on Twitter
As Twitter grows in popularity, so does Lights Out, Green In's power to reach people with daily "pledge alerts" and news from our blog, which offers links and analysis on all environmental happenings throughout each week. Follow
LightsOutGreen on Twitter
 and get daily alerts at 10:55 am reminding you to turn off your lights for the pledge. And check us out for other environmental links to our blog.